Recommended LayoutYou are currently viewing Memory Alpha without recommended changes to the standard layout. To apply these changes, please click on the following Apply link - to just get rid of this notice, click on Reject. In either case, click Save page on the page that follows.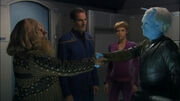 Welcome to Memory Alpha, Alesaenz!
I've noticed that you've already made some contributions to our database – thank you! We all hope that you'll enjoy our activities here and decide to join our
community
.
If you'd like to learn more about working with the nuts and bolts of Memory Alpha, I have a few links that you might want to check out:
One other suggestion: if you're going to make comments on talk pages or make other sorts of comments, please be sure to sign them with four tildes (~~~~) to paste in your user name and the date/time of the comment.
If you have any questions, please feel free to post them in our Ten Forward community page. Thanks, and once again, welcome to Memory Alpha!--Alan del Beccio 20:00, 2 September 2006 (UTC)
Moved from talk:Star Trek (film)/Ten Forward#Star Trek (film) - SPOILERS - Where to place new information (post-release discussion):
I want to comment that maybe it's important to comment about how to refer to the fans that they will hooked by the new film but they didn't care about big things about...let's say the destruction of Vulcan! My idea is to refer to those fans as... Para-trekkies – The preceding unsigned comment was added by Alesaenz (talk • contribs).
Sorry, but how is coming up with a name for new fans relevant to Memory Alpha? The conversation above is about how to handle articles related to the new timeline. We're not just coming up with names for its own sake. —Josiah Rowe 05:27, 13 May 2009 (UTC)