Only really watch Voyager, Enterprise and a little bit of Next Gen. Anyone got anything the wanna ask, or just to talk about, post it on my page, would be more than happy to reply and have a good talk about it.
I joined the Star Trek fandom relatively early on, when i was 11.
USS Enterprise (NCC-1701-E) The ship that saved humanity...one great sacrifice.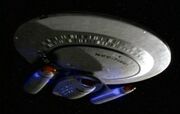 "If you're going to use logic, then do it more quietly" <--T'Pol to Charles Tucker III
| | |
| --- | --- |
| en | This user is a native speaker of English. |