Hi everybody!
Voyager
is my favorite series of
Star Trek
, but I have been known to watch the others at times. But in Voyager, I like the
ships
,
characters
,
uniforms
, stories, and more.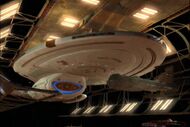 My dad's theory is that everyone likes the series that they watch when they're kids the most. I suppose that's true, I watched it when I was little, while he watched
TOS
when he was a kid and that's his favorite.
Contributions
Edit
Note: These are pages I either created or added a great deal to, Memory Alpha is a collaborative project so no article is any one person's.
Voyager Episodes
Edit
Issues of Star Trek: The MagazineEdit
Minor Articles
Edit
Works In Progress
Edit
None at the moment... how sad :(