Did you know...?
Edit
Interesting to read
Edit

Explosives: Clancium oxide, Sarium krellide, Ultritium

Starfleet General Orders and Regulations
See also my List of usefull Nav-bars.
Contributions
Edit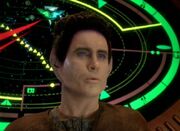 My Star Trek Collection
Edit
Star Trek: The Original Series (TOS)
Edit
Star Trek: The Animated Series (TAS)
Edit
Star Trek: The Next Generation (TNG)
Edit
Star Trek: Deep Space Nine (DS9)
Edit
(These two VHS have personal collector's value to me, 'cause In the Pale Moonlight and Treachery, Faith and the Great River are my absolute favorite episodes.)
Star Trek: Voyager (VOY)
Edit
Star Trek: Enterprise (ENT) Edit
Featured Picture
Edit

And the goatees shall reign!
Other...
Edit
See German profile for more...