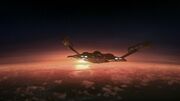 Mario Girotti
Gender:
Male
Species:
half Vulcan, half Andorian (or so I claim...)
DOB:
Secret
Occupation:
Tailor (or not)
Origin:
Secret (home planet believed to be Mars)
Current Location:
Secret
Favorite Episode:
"Tribbles" (by my second-fave SF writer)
Favorite Movie:
Who Framed Roger Rabbit? (but you meant "ST" movie, didn't you?)
Username was chosen in honor of the Cardassian character of the same name, played by Andrew J. Robinson on DS9 (and "Dirty Harry", if you didn't already know).
Fan since the 1970s, beginning with STTOS, I've followed the franchise faithfully, having seen every episode at least once (except maybe STTAS). A die-hard Trekker (Trekkie makes me want to scream), I can't yet identify episodes by the color of the sky. (I'm getting better.) I take the details seriously: Constellation can't be a Constitution-class, not with that registry number, for instance.
My interests
Edit