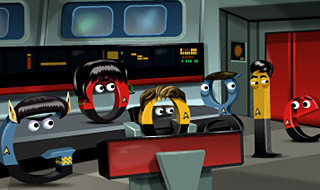 I found my way into the Trek fandom fairly recently, though I've been aware of the phenomenon for most of my life. A friend of fantasy, sci-fi and all things unearthly in general for as long as I can remember, I even maintained a small collection of Star Trek newspaper clippings (along with a much more extensive Star Wars collection—though, mind you, I've always been able to tell the two franchises apart ;) in my early teens. And this was even before I had seen a single Trek episode or movie… So the fascination toward the subject has certainly been there for quite a while.
My first large-scale contact with live-action Trek were the reruns of The Next Generation that I used to watch in the mid-2000's, though I remember having been rather blasé about them (the fact that they were Season 1 and 2 episodes might have something to do with it). Then along came 2009… and along it went, too. I really did mean to go see Star Trek in the movie theater, but it premiered around the same time I was moving, and sorting out my life kept me too busy. Fast forward to January 2012—so, they're showing Trek 2009 in television, might as well take a look… And there I was, falling head over heels for the franchise I'd been skirting around for so long.
Before I knew it, I had bought the movie on DVD and rewatched it more times than I could count. And of course I had to get the original series too, just to see what was it that JJ & Co. were rebooting. I read fanfiction and all the comics I could get my hands on until my eyes were sore. I began frequenting here at Memory Alpha. And finally, prompted by the 46th anniversary of TOS (after being kindly informed about it by Google), decided to join the project.
I'll probably mostly edit stuff related to nuTrek, but I'm sure you'll be seeing my WikiGnome touch on other random articles as well. Dif-tor heh smusma!