Introduction
Edit
How do you do? I'm a Memory Alpha visitor who mostly uses it for reference. However, I came to feel the imperative of being bold and of not leaving it to the rest of the contributing community to polish off the rough spots and fill in the little holes I inevitably find. Thus, I created my account on July 3, 2007. I must say, it really feels better than the alternative. Who says one cannot learn goodness from a bad example?
Be Informed
Edit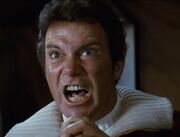 "Khan" has one "N".
So does "Canon".
"Cannon", on the other hand, has two or three or even more. The important thing is - for your own sake, say what you mean, and at least fake the appearance of knowing what you're talking about.
To paraphrase a 20th century Human good ol' boy, "You might be a petaQ' if... you call your favorite unauthorized novel's plot twist 'Cannon'! HAW HAW HAW HAW!!!!"
Notable Quote
Edit
"What a handsome... young... man... you have here..."