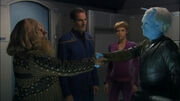 Welcome to Memory Alpha, Ssaint04!
I've noticed that you've already made some contributions to our database – thank you! We all hope that you'll enjoy our activities here and decide to join our
community
.
If you'd like to learn more about working with the nuts and bolts of Memory Alpha, I have a few links that you might want to check out:
One other suggestion: if you're going to make comments on talk pages or make other sorts of comments, please be sure to sign them with four tildes (~~~~) to paste in your user name and the date/time of the comment.
If you have any questions, please feel free to post them in our Ten Forward community page. Thanks, and once again, welcome to Memory Alpha! - Adm. Enzo Aquarius 20:36, 25 February 2006 (UTC)
Ilia on the Enterprise
Edit
Greetings, I was curious as to your motive for removing Ilia from the command crew of the Enterprise? The article refers to both the original Enterprise shown in TOS and movies I through III. Ilia served as a senior staff member in Star Trek: The Motion Picture as the navigator and thus should be reflected in the command crew list. - Adm. Enzo Aquarius 21:18, 25 February 2006 (UTC)
Reading the article, it appears to me that the section in question is referring to Kirk's five year mission of 2265-2270.
And I just noticed that right after I made this entry, lol. I modified the title to include all of Kirk's command under the original Enterprise. (Also, make sure to include 4 tildes [~~~~] to sign talk messages, thanks!) - Adm. Enzo Aquarius 21:23, 25 February 2006 (UTC)