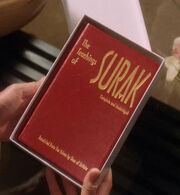 Hello, I am Skon. I am particularly interested in Memory Alpha subjects having to do with
These articles have been started by me:
User:Skon
The third entry of the above list demonstrates that self-reference needn't necessarily lead to paradox.
My Rankings
Edit
Here is how I rate the five manifestations of Trek on TV. The rating is based on a combination of two values: How much I enjoyed the series and how much Roddenberry Star Trek spirit it featured. (10=best,0=worst)
VOY has actually more Trek spirit than DS9 in my view, but I really disliked the show.
Rating the motion pictures is more difficult for me. I think that all movies except TMP (and maybe TWOK) did not live up to the quality of Trek on TV. There were too many plot holes, severe logical flaws, discontinuities and far-fetched ideas (even for SF). So I rate the movies by lowered standards. Only TMP really convinced me. Perhaps that's due to the fact that much of the preproduction work for the cancelled TV show Star Trek: Phase II went into that movie. (TWOK carried over much of the original feel of the original TV show, too). Therefore, my rating is simply based on a comparison with TMP, which gets the optimum of 10.
Most attractive women in the Star Trek universe
Edit
Favorite Starship designs
Edit
Favorite Episodes
Edit
Worst Episodes
Edit
ENT: "

These Are the Voyages...

"
TNG: "

Phantasms

"
TNG: "

Sub Rosa

"
TNG: "

Masks

"
TOS: "

The Alternative Factor

"
TOS: "

Catspaw

"
TNG: "

The Loss

"
TNG: "

Cost of Living

"
VOY: about 75% of the shows
ENT: "

Storm Front

"
Interestingly, DS9 made only one entry in the Top Ten, but on the other hand, the show has no entry in the Flop Ten.
In real life I am a researcher in logic and philosophical foundations of mathematics.
Star Trek is the only one of my SF hobbies which motivates me to participate in projects such as Memory Alpha, but I also love
Babylon 5
Star Wars
Doctor Who
The X-Files
Heroes
Other pastime interests of mine include
Ancient Greek culture & science
Zen
The Game of Go
Actual Astronomy and Space Exploration
1950's Rock'n'Roll and Rockabilly music
\\//_
Dif-tor heh smusma
Skon