Name:
Lt. Arex
DOB:
26/12/????
Location:
somewhere on Earth, in the continent called Europe
Occupation:
Starfleet historian
Favorite Series:
Star Trek: The Original Series
Other favourites:
European art films, science fiction, '70s heavy metal
My facebook page about Star Trek directors (just created recently): Trek directors
Well, I'm a long-time Star Trek-fan since I was a little kid, playing the adventures of the Enterprise at the school playyard (I was Captain Kirk, and another kid was Spock, and we searched for Humpback whales - the other guy is currently the lead singer of a black metal band...). I've seen (and taped) all the episodes of TOS at that time. I've seen all episodes of TOS, TAS, TNG, DS9 and nearly all episodes of VOY, and about half of the really awful ENT series. My favourite show of all time is TOS. Although I like TNG and DS9 too, I remained a classic "Trekkie" since the moment I've first seen the Enterprise for the rest of my life.
I love TOS, like TNG and DS9, dislike Voyager and absolutely hate Enterprise and Abrams Popcorn Trek. Enterprise and the new Abrams Trek movie are considered non-canon by me. Therefore I do not edit or add in-universe information concerning these.
Thanks
In the entertainment industry, those who work behind the camera are usually outshined by those who are photographed by them. However, they make films and television alive, and without their dedication and hard work, there couldn't be Star Trek or any other work of motion picture.
I especially wish to remember the following people for their unforgettable contributions to the series we all know and love:
A confession
"I'm more intelligent than Rick Berman and Brannon Braga together!"
Some of the most attractive ladies of Star Trek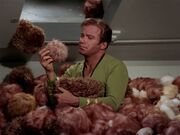 My favourite episodes
Star Trek: Voyager
"Space the Final Frontier. These are the voyages of the Starship Enterprise. It's five-year mission: to explore strange new worlds, to seek out new life and new civilizations. To boldy go WHERE NO MAN HAS GONE BEFORE..." - James Tiberius Kirk