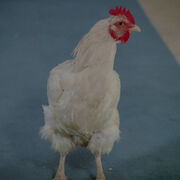 Hi! Needless to say I own chickens. My aunt lets me keep three! Needless to say we dont eat meat! It's ok if you do, but I don't eat meat and think that meat is murder! I've been using this place since forever. But, I only started editing lately because I didn't know how. After I pressed edit the first time you can see how easy it is because all of the words have blocks around them. You can check what LK to what with the what LK here option. The coolest LK are the ones where you put a line in the middle. Like this - [ [ Chickens! | Chicken ] ] (but without the spaces. It works like this Chickens! I started making redirects to! I made one with my user page, but I wasn't sure if I did it the right way, if you want to see how to make them you can keep hitting back until you can see one and then edit another page just like it. I just cut and paste the whole thing and then I fix the words around. In the end it looks like #REDIRECT [ [ Chickens! ] ] (again you don't use the spaces)
You can find tons of pages to LK by pressing the random page button. I hope my page helps the new people! Needless to say the older users already know how to do all this and more! And remember only Klingons eat chickens! Even the Borg don't assimilate them!
LK is short for link!