Yah, welcome to my humble page. I'm usually online on a "Whenever I Feel Like It" basis. But as you can see, I like taking picture from this site and perverting them with my nutty captions (scroll below). And this one goes out to all you Klingons, Hab SoSli' Quch! Wanna know what that means? Learn to speak Klingon! That's not my problem. And FYI, I'm not a trekkie. I'm a Trekker. And it'l stay that way, kapish?
Current Status
Edit
Well, may I first point out that I'm not one of those freaks who know every line of every episode. I just watch the show! The only thing I'm really obsessed with are ships and classes. I don't give a crap what Picard's 15th line was from Episode 113 was. I'd rather nitpick on inconsistensies.
Yeah, I'm in current command of the USS
Retribution
. Jealous? You'd better be. I'd blow you outta the water anyday.
STATUS: Eh, she's down for...repairs. Last time I press the big red button...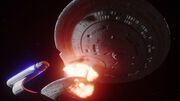 UPDATE!!! I managed to get a rental, but that didn't fare too well either. I should go back to bartending...
I will periodically put up captions of pictures. Here's a few.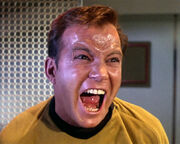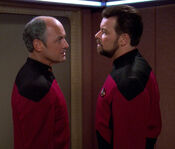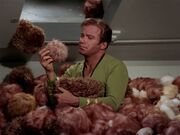 These are my personal opinions on various aspects of Star Trek. You don't have to agree with them, but I just post them to get my ideas out there.

Freak Trekkies
If you've known about Star Trek for a long time, you will know of people who eat, breath, and sleep Star Trek. Then you will hear of those where Star Trek is a major part of thier life. Then you will hear of people who LIVE Star Trek. I mean the people who wear uniforms as regular clothing, or think they are a Klingon. I think they've lost their marbles. Don't get me wrong, I will never hate my fellow Trekker, but those who take it to an extreme level as in to think they are actually a captain... Please! Our reputation as geeks is bad enough with all those fat guys wearing spandex uniforms (and pants *cringe*). We don't want people thinking we are all schizophrenic or somthing...

Enterprise
Why are people constantly crapping on Enterprise? It wasn't a bad series! Sure, there are some parts that could have been left out (Trip and T'Pol sitting in a tree...), but other than that, it was a well written series with some very well developed storyline and charachters. Not to mention some interesting insight into the past. My only real complaint was a lack of imagination. Fo' example, Phase Cannon and Photonic Torpedos. Both practically function exatically like thier future counterparts. Lasers and Spatial missiles would have made the ol' ontinuity flow a lot smoother. But other than that, it still holds #3 on my favorite Series list (after TOS and TNG, of course). And if you still think it was a crappy series, go play in traffic.