The following is a list of unnamed type 6 shuttlecraft.
By registry
Edit
Enterprise-D saucer evacuation Edit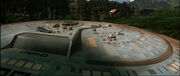 In 2371, several type 6 shuttles were used to evacuate the survivors of the USS Enterprise-D's saucer after it crashed on Veridian III. (Star Trek Generations)
It is unclear which ship the Type 6 shuttles belonged to, though it seems unlikely that they were the
Enterprise
-D's, as the main shuttlebay doors were still closed.
Voyager crashed shuttle Edit
This shuttle was flown by Tuvok and Bennet when it crashed on a Drayan moon. It was repaired and recovered. (VOY: "Innocence")
Honshu shuttlecraft Edit
In 2374, a shuttle was taken from the USS Honshu by Dukat and Sisko, before the starship's destruction following an attack by Cardassian destroyers. The shuttle was taken to a planetoid and later stolen by Dukat. (DS9: "Waltz")
Seven's shuttle
Edit
This shuttle was stolen by Seven of Nine and taken to the remains of the USS Raven on a planet in B'omar space. (VOY: "The Raven")
It is unknown if this shuttle was recovered.
Voyager trade shuttlecraft Edit
In 2374 this shuttle was used by Tom Paris and Neelix to visit a trade colony and transport Arturis to Voyager. Paris reported to Chakotay that it was so loaded down with supplies that it could only do half impulse. (VOY: "Hope and Fear")
Voyager sinkhole shuttlecraft Edit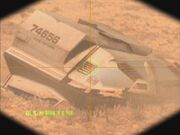 In 2375, Lieutenant Commander Tuvok, Ensign Tom Paris and The Doctor were on a shuttle mission in this shuttle when they encountered a subspace sinkhole which damaged their engines and threw them into a subspace pocket, within which was a three-planet system. The shuttle crash-landed on the planet, damaging The Doctor's mobile emitter and leaving the shuttle irretrievable. When the crew was rescued three months later, the shuttle remains were abandoned. (VOY: "Gravity")

San Francisco shuttlecraft
Edit
In 2375, a type 6 shuttlecraft was operating near the ruined Starfleet Headquarters after the Breen attacked San Francisco. (DS9: "The Changing Face of Evil")