Ad blocker interference detected!
Wikia is a free-to-use site that makes money from advertising. We have a modified experience for viewers using ad blockers

Wikia is not accessible if you've made further modifications. Remove the custom ad blocker rule(s) and the page will load as expected.
The following is a list of unnamed asteroids.
Alpha and Beta Quadrants
Edit
Badlands Maquis asteroid
Edit
A Class M asteroid was located in the Badlands. The surface of the asteroid had jungle terrain.
In 2370, Commander Benjamin Sisko, Major Kira Nerys and Doctor Julian Bashir were ambushed by Maquis leader and former Starfleet lieutenant commander Calvin Hudson on this asteroid. (DS9: "The Maquis, Part I")
Dilithium processing facility
Edit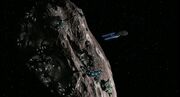 This unnamed asteroid was the location of a dilithium processing facility that utilized repurposed EMH-Mark Is in 2378. It was equipped with a hololab that had a copy of Photons Be Free under the file name 47-Beta. (VOY: "Author, Author")

Delta Quadrant
Edit
Asteroid field with unusual dilithium
Edit
In 2372, USS Voyager surveyed an asteroid field in which it discovered a new form of dilithium. (VOY: "Threshold")
Class D planet ring system
Edit
An unnamed planet in the in the Delta Quadrant had a ring system comprising of asteroids. Most of these asteroids supported class M atmospheres. (VOY: "Emanations")
Species 8472 hideout
Edit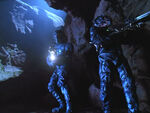 In 2374, two Hirogen hunters hunted down a member of Species 8472 onto the surface of this asteroid. In the caves on the surface, the Species 8472 individual attacked the hunters but was seriously wounded and brought aboard the Hirogen warship. (VOY: "Prey")
Vidiian asteroid
Edit
The surface stratum of this large asteroid was made up of an neutronium alloy, suggesting an artificial origin. It had at least one large cavity, that could be entered through an open crater. Inside, electro-magnetic interference severely limited sensors. A large chamber with mirroring walls was also present.
In 2371, Vidiians Dereth and Motura hid in this asteroid aboard their Vidiian starship after they had stolen Neelix's lungs. USS Voyager followed the ship into the asteroid and apprehended the two Vidiians. (VOY: "Phage")

Gamma Quadrant
Edit
Chamra Vortex asteroid
Edit
The Chamra Vortex asteroid was one of millions of asteroids located in the Chamra Vortex. It had a breathable atmosphere.
In the 2360s, the criminal Croden hid his daughter, Yareth, in a stasis pod on this asteroid.
Later, in 2369, when Croden was to be returned to Rakhar by Odo on the USS Ganges, they took a detour to the vortex and were chased into it by a Miradorn raider. Under the control of Croden, they landed the runabout on this asteroid where Croden retrieved his daughter, lying to Odo that it was a Changeling colony. (DS9: "Vortex")