The following is a list of unnamed Klingons who lived during the 23rd century.
Ambassador
Edit
Kor and Koloth's firstborn sons
Edit
These son, along with Dax, son of Kang, were all murdered by The Albino, prompting Kor, Kang, Koloth and Curzon Dax to enter a blood oath. (DS9: "Blood Oath")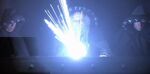 In 2293, these three Klingon judges presided over the trial of Captain James Kirk and Doctor Leonard McCoy after they were accused of involvement in the assassination of Chancellor Gorkon. The trio of judges consisted of an albino Klingon speaker and two other judges who, like the albino, wore hoods embroidered with Klingon lettering but, unlike most Klingons (including the speaker), were not bearded. Kirk and McCoy were found guilty, but the albino judge commuted the sentence to life imprisonment on Rura Penthe, in light of the circumstantial nature of the evidence and to foster amity in the peace talks. (Star Trek VI: The Undiscovered Country)
The albino Klingon judge, listed in the end credits of
Star Trek VI
simply as "Klingon Judge", was played by actor Robert Easton. The Klingon judge on his left was played by Trent Christopher Ganino.
Military personnel
Edit
Rura Penthe inhabitants
Edit
Translator
Edit
This Klingon translated General Chang's spoken Klingonese into English for the benefit of Captain Kirk and Doctor McCoy during their trial for the death of Chancellor Gorkon in 2293. (Star Trek VI: The Undiscovered Country)
Ad blocker interference detected!
Wikia is a free-to-use site that makes money from advertising. We have a modified experience for viewers using ad blockers

Wikia is not accessible if you've made further modifications. Remove the custom ad blocker rule(s) and the page will load as expected.