Ad blocker interference detected!
Wikia is a free-to-use site that makes money from advertising. We have a modified experience for viewers using ad blockers

Wikia is not accessible if you've made further modifications. Remove the custom ad blocker rule(s) and the page will load as expected.
List of unnamed Jem'Hadar battle cruisers.
Dukat's ship
Edit
Invasion fleet
Edit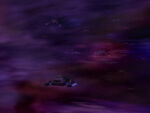 In 2373, at least fifteen Jem'Hadar battle cruisers, and several more Jem'Hadar fighters, totaling almost fifty ships, hid in an unnamed nebula located in Dominion space in the Gamma Quadrant in preparation of invading the Alpha Quadrant, that was discovered by Worf and Dominion.
One of these ships pursued the Starfleet Danube-class runabout, assisting in its capture. (DS9: "In Purgatory's Shadow")

Operation Return combatants
Edit
During Starfleet's Operation Return, a large Dominion fleet, including several battle cruisers engaged the Federation fleet (later joined by forces from the Klingon Empire), during their attempt to retake Deep Space 9. One battle cruiser fired on and destroyed the USS Majestic. Another was destroyed when a damaged Klingon Bird-of-Prey collided with it. (DS9: "Favor the Bold", "Sacrifice of Angels")

Second Battle of Chin'toka participants
Edit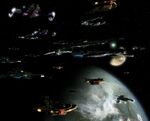 These battle cruisers were present at the Second Battle of Chin'toka. They held back as the Breen used their energy dissipators on the Federation Alliance assault fleet. (DS9: "The Changing Face of Evil")