Ad blocker interference detected!
Wikia is a free-to-use site that makes money from advertising. We have a modified experience for viewers using ad blockers

Wikia is not accessible if you've made further modifications. Remove the custom ad blocker rule(s) and the page will load as expected.
Unnamed Humans in the alternate reality.
Chelsea civilians
Edit
These civilian people were residents of the Chelsea area of San Francisco in 2259. They witnessed explosions when Khan ran away from Spock. Khan hit several of the civilians and they fell on the ground. (Star Trek Into Darkness)
The Chelsea civilians are played by background performers and stunt performers. The "name" came from the resume of LaRaine Fisher and information from Bill Blair.
Iowa Cop
Edit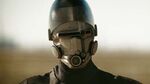 This Iowa cop attempted to apprehend a young James T. Kirk in the 2240s after Kirk stole his stepfather's Corvette. He wore a specialized, mechanical mask in order to effectively ride his hovercruiser.
He only caught up with Kirk after the Corvette fell into a quarry, and Kirk nearly with it. (Star Trek)
The Iowa cop was portrayed by stunt actor Jeremy Fitzgerald. His voice was provided by the film's director, J.J. Abrams, although it was altered.

As originally shot, Fitzgerald's face was visible to the audience, but Abrams decided in post-production to digitally add a mask to hide his face. (

Star Trek DVD

commentary)
James T. Kirk's stepfather
Edit
James T. Kirk's stepfather was angry at Kirk for stealing his Corvette in the 2240s. He was married to Winona and was responsible for much of Kirk's upbringing in Riverside, Iowa. (Star Trek)
Kirk's stepdad was unseen in the film, but his voice over the Nokia phone was provided by Greg Grunberg (J.J. Abrams' "good luck charm").

The

novelization

essentially merges the characters, making the abusive adult the step-father and giving him the name Frank.
Leonard McCoy's ex-wife
Edit
When James T. Kirk and Leonard McCoy met in 2255, McCoy was recently divorced from his wife. He exaggerated that his wife "got the whole planet" in the settlement, and that was his reason for entering Starfleet. He also commented that "all she left me was my bones", leading to Kirk's famous nickname for McCoy. (Star Trek)
The ex-wife was presumably the mother of
Joanna McCoy
. It is likely that she also existed in the prime reality.
Port of San Francisco bar patrons
Edit
Powerwall personalities
Edit
These people appeared on media broadcasts featured on Alexander Marcus' powerwall. (Star Trek Into Darkness)
Riverside Construction worker
Edit
In the alternate reality, a construction worker at the Riverside Shipyard admired James T. Kirk's motorcycle, saying "Nice ride". Kirk promptly tossed him the bike's startcard as he boarded a shuttle bound for Starfleet Academy. (Star Trek)
Royal Children's Hospital personnel
Edit
These doctors and nurses were part of the medical staff at the Royal Children's Hospital near London on Earth in 2259. One of their patients was Lucille Harewood. (Star Trek Into Darkness)
San Francisco bar girl
Edit
This Human female sat at the bar in a San Francisco bar when James T. Kirk noticed her following his demotion. When he tried to flirt with her, he was interrupted by Christopher Pike who placed himself between the two. (Star Trek Into Darkness)
San Francisco residents
Edit
These residents of San Francisco watched the crash landing of the USS Vengeance into the harbor and the city in 2259. Many of them were killed. (Star Trek Into Darkness)
Shipyard Bar patrons
Edit
Starfleet personnel
Edit