The following are unnamed Earth starships.
By unknown class
Edit
Emory's research ship
Edit
In 2149, a crewman aboard this ship while it was in the Barrens reported an anomaly that seemed almost alive. This report would be read by Captain Jonathan Archer while his ship was also in the Barrens in 2154. (ENT: "Daedalus")
This ship was only mentioned in dialogue.
Delta-shaped warp ships
Edit
Supporting the Intrepid Edit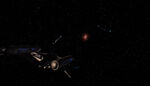 These two "Warp Delta" ships supported the Intrepid in chasing off Duras' Bird-of-Prey as Enterprise NX-01 was returning to Earth following the Xindi attack. (ENT: "The Expanse")

Earth defense fleet
Edit
At least three ships of this type were in the fleet that greeted Enterprise at Earth in 2154 following its mission in the Delphic Expanse, and a brief time travel trip to an alternate 1944 to end the Temporal Cold War. (ENT: "Storm Front, Part II")

Supporting the ISS Enterprise Edit
In the mirror universe, two ships of this type supported the ISS Enterprise before 2155. (ENT: "In a Mirror, Darkly", "In a Mirror, Darkly, Part II", opening credits)

Enterprise convoy Edit
Two ships of this type were part of Enterprise's convoy to Ceti Alpha V in an alternate timeline were Earth was destroyed by the Xindi weapon. One of these ships was still in service in 2165. It was destroyed alongside the Intrepid and Enterprise when the Xindi tracked Phlox to the colony. (ENT: "Twilight")

Earth defense fleet ships
Edit
At least three ships of this type were in the fleet that greeted Enterprise at Earth in 2154 following its mission in the Delphic Expanse, and a brief time travel trip to an alternate 1944 to end the Temporal Cold War. (ENT: "Storm Front, Part II")

Tau Ceti assault fleet
Edit
Twelve unnamed starships were destroyed in the mirror universe by the rebellion against the Terran Empire in a battle at Tau Ceti in the 2150s. (ENT: "In a Mirror, Darkly")

Avenger's assault fleet Edit
An unknown number of unnamed starships in an assault fleet lead by the ISS Avenger were completely destroyed in 2155, with the Avenger barely surviving after the USS Defiant intervened. By this point, thousands of Starfleet officers were said to have been killed by the rebels. (ENT: "In a Mirror, Darkly, Part II")