This is a list of unnamed Dosi
Arguing Dosi
Edit
Two arguing Dosi were present when Quark arrived on the Dosi homeworld to acquire a tulaberry contract.
The female Dosi told the male Dosi that she wanted their freighter re-fitted or he could find a new partner. (DS9: "Rules of Acquisition")
Four Dosi
Edit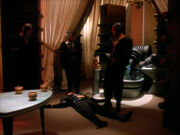 Four Dosi were in a hall of business when Quark entered the hall to persuade Inglatu to sign a tulaberry contract.
One Dosi killed another, apparently in a quarrel over business, and told the other two Dosi get take away the body. (DS9: "Rules of Acquisition")
Dosi in a hall of business
Edit
A group of Dosi in a hall of business, who were drinking tulaberry wine from an elaborate fountain, were startled when Quark overturned the fountain to get their attention. (DS9: "Rules of Acquisition")