This is a list of unnamed Ba'ku.
Artim's friend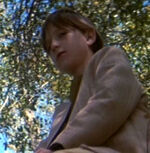 This Ba'ku boy was a friend of Artim. He was playing with him and five other children in the haystacks and on the hills when they witnessed explosions and ran back to the village.
When the crew of the USS Enterprise-E searched for Artim they found the two boys sitting in a tree with the Rhyl. The two Ba'ku boys then guided the crew and Anij and Sojef to the place where they've played when they first saw explosions from the cloaked Data. (Star Trek: Insurrection)
Female Ba'ku 1
Gallatin's mother
This female Ba'ku was the mother of Gallatin, one of the renegade Ba'ku who turned into the Son'a.
After Captain Jean-Luc Picard and his crew conquered Ru'afo and his plans to sacrifice the Ba'ku and their homeworld, Anij managed the first meeting since a long time between Gallatin and his mother. Doctor Beverly Crusher brought the two together and the Ba'ku woman embraced Gallatin. (Star Trek: Insurrection)
Male Ba'ku 1
This male Ba'ku was one of the inhabitants of the Ba'ku village. When the Ba'ku were forced to leave their village he was on the trail right behind Data and Artim. Later, he was one of the individuals who was marked with an isolinear tag from a Son'a drone and beamed on board Ru'afo's ship. (Star Trek: Insurrection)
Male Ba'ku 2
This male Ba'ku was one of the inhabitants of the Ba'ku village. During the walk away from the village he made a rest right behind Doctor Beverly Crusher and Counselor Deanna Troi. Later, he was one of the individuals who was marked with an isolinear tag from a Son'a drone and beamed on board Ru'afo's ship. (Star Trek: Insurrection)
Male Ba'ku 3
Male Ba'ku 4
This male Ba'ku was present when the cloaked Son'a had a fight with Data and was shocked when several other Ba'ku were thrown on the ground and hit by "something invisible". Later he was also one of the Ba'ku who walked away from their village to be safe in the caverns and was carrying a large basket on his back. (Star Trek: Insurrection)
Male Ba'ku 5
Male Ba'ku 6
Male Ba'ku 7
Playing children
These five Ba'ku children were playing with Artim and his friend on the haystacks and the hills not far from the Ba'ku village when several explosions appeared. They were frightened and ran back into the village where the adult Ba'ku protected them and brought them into the houses. (Star Trek: Insurrection)