The following is a list of unnamed Ba'ku.
Artim's friend
Edit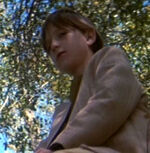 This Ba'ku boy was a friend of Artim. He was playing with him and five other children in the haystacks and on the hills when they witnessed explosions and ran back to the village.
When the crew of the USS Enterprise-E searched for Artim they found the two boys sitting in a tree with the Rhyl. The two Ba'ku boys then guided the crew, Anij and Sojef to the place where they've played when they first saw explosions from the cloaked Data. (Star Trek: Insurrection)
These Ba'ku lived in the village when the Son'a tried to relocate them by force to use the regenerative effect of the Ba'ku planet and its metaphasic radiation. (Star Trek: Insurrection)
Gallatin's mother
Edit
This female Ba'ku was the mother of Gallatin, one of the renegade Ba'ku who turned into the Son'a.
After Captain Jean-Luc Picard and his crew conquered Ru'afo and his plans to sacrifice the Ba'ku and their planet, Anij managed the first meeting since a long time between Gallatin and his mother. Doctor Beverly Crusher brought the two together and the Ba'ku woman embraced Gallatin. (Star Trek: Insurrection)
Playing children
Edit
These five Ba'ku children were playing with Artim and his friend on the haystacks and the hills not far from the Ba'ku village when several explosions appeared. They were frightened and ran back into the village where the adult Ba'ku protected them and brought them into the houses. (Star Trek: Insurrection)
Ad blocker interference detected!
Wikia is a free-to-use site that makes money from advertising. We have a modified experience for viewers using ad blockers

Wikia is not accessible if you've made further modifications. Remove the custom ad blocker rule(s) and the page will load as expected.