The following is a list of unnamed Arcadians.
Ambassador
Edit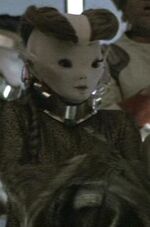 This Arcadian ambassador served as a representative on the Federation Council in 2285 and witnessed the trial of Admiral James T. Kirk. (Star Trek IV: The Voyage Home)
Councilors (2364)
Edit
Two Arcadian councilors were present at Starfleet Headquarters in 2364 when the USS Enterprise-D returned to Earth to investigate a conspiracy. (TNG: "Conspiracy")
Ad blocker interference detected!
Wikia is a free-to-use site that makes money from advertising. We have a modified experience for viewers using ad blockers

Wikia is not accessible if you've made further modifications. Remove the custom ad blocker rule(s) and the page will load as expected.