The following is a list of unnamed Acamarians.
Bodyguard
Edit
This Acamarian bodyguard came aboard the USS Enterprise-D in 2366 to guard Sovereign Marouk. He also accompanied her to Gamma Hromi II and Chorgan's Gatherer ship. (TNG: "The Vengeance Factor")
Chorgan's gatherer
Edit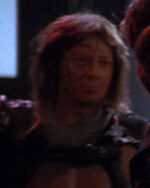 This Acamarian Gatherer worked for the Gatherer leader Chorgan on his ship. He was present during the peace talks between Chorgan and Sovereign Marouk and was stunned by Commander Riker who stopped Yuta in killing Chorgan. (TNG: "The Vengeance Factor")
Gatherers
Edit
These four Gatherers were members of the clan on Gamma Hromi II along with Brull, Mallon, Temarek, and Volnoth.
In 2366 they fired with Regalian phaser rifles at the away team of the Enterprise-D. Later they were present when Sovereign Marouk joined the Gatherers at the campfire to talk about peace. (TNG: "The Vengeance Factor")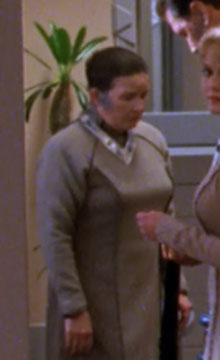 This Acamarian maid came aboard the Enterprise-D in 2366 to serve Sovereign Marouk. She was one of two servants to Marouk along with Yuta. She brought the personal belongings into the quarters aboard the Enterprise-D. (TNG: "The Vengeance Factor")
Pictured Acamarians
Edit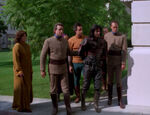 Three Acamarian civilians and two Acamarian guards were seen on a picture in the Acamarian planetary database. This picture was shot in 2313 during the trial of Penthor-Mul and helped identify Yuta as the murderer. (TNG: "The Vengeance Factor")