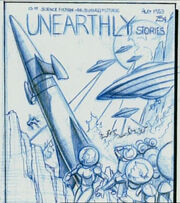 Unearthly Stories was a science fiction magazine of which a cover sketch was seen in the Mission Inquiry: Far Beyond the Stars special feature on the DS9 Season 6 DVD set. It was the August 1953 issue, which cost 25 cents. Its slogan was "Is it science fiction - or science future".
Like most other sketches featured in the documentary, it may have decorated the walls of the Incredible Tales office, though if it was, it was never visible enough to be identified. The documentary also shows a colored version of the cover drawing.
Ad blocker interference detected!
Wikia is a free-to-use site that makes money from advertising. We have a modified experience for viewers using ad blockers

Wikia is not accessible if you've made further modifications. Remove the custom ad blocker rule(s) and the page will load as expected.