An Template:ShipClass starship such as USS Voyager normally has a complement of approximately 150 crew. When Voyager left dry dock, its crew complement was 153. During the tumultuous voyage to and through the Delta Quadrant, many were lost. But there were also several new crewmembers taken on, first from Chakotay's Maquis and the Ocampa sector, and later from the Borg and the USS Equinox. In 2371, the Voyager had a crew complement of 141, whereas in 2378 the number went to 146. (VOY: "Caretaker", "Author, Author")
In 2373, Vorik stated that 73 of the crew members were male. (VOY: "Blood Fever") There were two Vulcans and two Betazoids listed on the crew manifest, with one of the betazoids, Suder, having previously been killed by the Kazon (VOY: "Basics,_Part_II")(VOY: "Counterpoint").
Crew manifest
Some names have notations as to where each crewperson joined Voyager. All the Maquis crewmen had provisional Starfleet ranks.
See also
0-9
A
B
C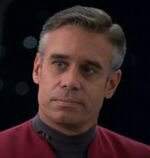 D
E
F
G
H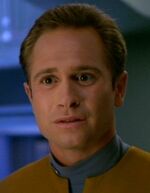 I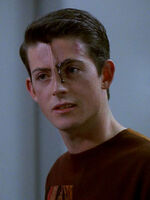 Icheb (civilian, former Borg drone, 2376-2378)

J
K
L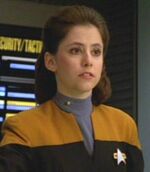 M
N
O
Crewman O'Donnell (Maquis, 2371-2378)
One (briefly, 2375, KIA)
P
Q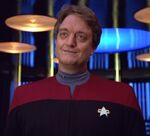 R
S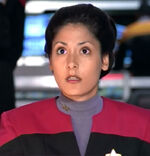 T
U
V
Ensign Vorik (engineering)

W
Y
Z
Unnamed personnel
Other personnel
The following personnel were recorded in crew manifests as being assigned to Voyager, but some did not seem to have accompanied the ship to the Delta Quadrant.
As most of them are also listed on the dedication plaques of the USS Voyager, USS Enterprise-E and USS Prometheus, they may have been assigned temporarily aboard, before the ship was stranded in the Delta Quadrant - during the ship's construction or tests phase for example.