Ad blocker interference detected!
Wikia is a free-to-use site that makes money from advertising. We have a modified experience for viewers using ad blockers

Wikia is not accessible if you've made further modifications. Remove the custom ad blocker rule(s) and the page will load as expected.
The USS Valiant (NCC-74210) was assigned for training purposes for the Starfleet Academy cadets of Red Squad. In 2374, crewed by only a handful of officers and 35 elite Red Squad cadets, it embarked on a training mission.
Crew manifest
Edit
Unnamed personnel
Edit
These cadets were assigned to the USS Valiant in 2374. They died in the destruction of the Valiant. (DS9: "Valiant")
Female senior chief petty officer
Edit
This female Human operations division cadet was assigned to the USS Valiant in 2374. She held the rank of an acting senior chief petty officer and died in the destruction of the Valiant. (DS9: "Valiant")
Trill cadet
Edit
This male operations division Trill cadet died in the destruction of the USS Valiant. (DS9: "Valiant")
Vulcan female cadet
Edit
This female Vulcan command division cadet was assigned to the USS Valiant. She died in the destruction of the Valiant. (DS9: "Valiant")
Vulcan male cadet
Edit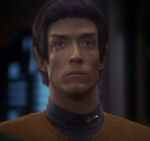 This male Vulcan operations division cadet was assigned to the USS Valiant. He died in the destruction of the Valiant. (DS9: "Valiant")