Ad blocker interference detected!
Wikia is a free-to-use site that makes money from advertising. We have a modified experience for viewers using ad blockers

Wikia is not accessible if you've made further modifications. Remove the custom ad blocker rule(s) and the page will load as expected.
USS SutherlandEdit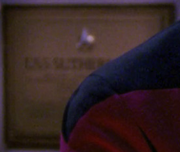 The following information was listed on the dedication plaque of USS Sutherland. (TNG: "Redemption II" set artwork)

Motto inspired by Beatles song Let It Be:
And when the broken hearted people
Living in the world agree,
There will be an answer, let it be.