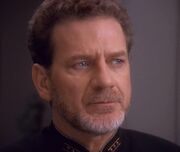 This category lists the names of people who formerly served aboard the USS Okinawa. (DS9: "Homefront", "Paradise Lost")
All of the names on this list besides Sisko and Leyton were named for "Catch-22".
Pages in category "USS Okinawa personnel"
The following 7 pages are in this category, out of 7 total.
D

L

M

M cont.

O

S

S cont.