The following crewmembers served aboard USS Lantree in 2365. According to Captain Jean-Luc Picard the Lantree had a crew complement of 26 men and women who all died.
An early final draft of the script contained a line, stated by Data, that indication that "
according to the Lantree logs the oldest crew member was 73, and the mean age of the crew was 32.66.
Named personnel
Unnamed personnel
Bridge officer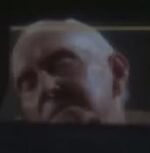 This Starfleet officer served aboard the Lantree in 2365. He manned a station on the bridge and was found dead along the rest of the crew by the USS Enterprise-D. According to Doctor Pulaski, he died of natural causes. (TNG: "Unnatural Selection")
Command division officer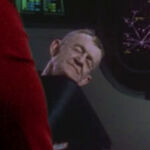 This Starfleet command division officer served aboard the Lantree in 2365. He also manned a station on the bridge when the Enterprise-D found his dead remains along the rest of the bridge crew. (TNG: "Unnatural Selection")