"For one brief glimpse at the mysterious blueprint of Human evolution, the men and women of the USS Lantree paid with their lives. Their sacrifice is thus noted in this scientist's log."
The USS Lantree (NCC-1837) was a 23rd century Federation Miranda-class starship operated by Starfleet.
This starship was classified as a class 6 supply ship and was armed with class 3 defensive armaments. (TNG: "Unnatural Selection")
In 2293, the Lantree was assigned a colony resupply mission in Sector 22858. The ship was named on a Starship Mission Assignments chart on the USS Enterprise-A bridge. (Star Trek VI: The Undiscovered Country)
In 2365, Captain L. Isao Telaka was the commanding officer of the Lantree. At the beginning of their duty cycle, the twenty-six crewmembers had a complete examination. All were in perfect health. The ship was assigned to Sector Gamma 7.
Five days before stardate 42494, the first officer was treated for Thelusian flu. Two days later, the Lantree visited the Darwin Genetic Research Station. Shortly after visiting the station, all twenty-six crewmembers fell victim to a mysterious aging disease that was later identified as geriatric phenomena during communications between Dr. Sara Kingsley and the USS Enterprise-D.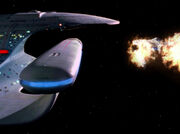 After answering her distress signal, the Enterprise-D found the Lantree adrift in space. With her crew deceased, the ship's quarantine transmitter and marker beacons were initiated to warn other vessels of the danger. After it became clear that the disease, caused by the immune systems of the children at Darwin, was highly contagious and could not be cured medically, the Enterprise-D destroyed the starship with one photon torpedo to prevent further transmission. (TNG: "Unnatural Selection")
Personnel
Edit
Background information
Edit
External link
Edit