USS Enterprise (NCC-1701-B) personnel
Discuss

1
The following is a list of personnel assigned to the USS Enterprise-B.
Crew manifest
Unnamed personnel
Communications officer
This communications officer intercepted a distress call from the SS Lakul in 2293. (Star Trek Generations)
Crewmembers
These Enterprise-B crewmembers were stationed on the bridge during the maiden voyage of the ship in 2293. They welcomed James T. Kirk, Pavel Chekov, and Montgomery Scott and were interviewed by the journalists. Later they witnessed the destruction of the SS Lakul and the SS Robert Fox. (Star Trek Generations)
All bridge crewmembers were played by background and stunt performers who received no credit for their appearance.
Lieutenant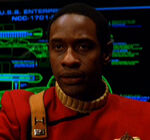 This lieutenant attempted to beam aboard El-Aurian refugees from the Lakul but was unable to get a lock because they seemed to be in a sort of temporal flux. He later reported the falling percent of the ships hull integrity. (Star Trek Generations)
Medical officer
This Starfleet physician was due to report for duty aboard the Enterprise-B the Tuesday following the incident in the Nexus. (Star Trek Generations)
He was only mentioned in dialogue.
This lieutenant commander of the operations division served as navigator aboard the Enterprise-B in 2293.
He informed Captain Harriman that the Enterprise was the only ship in range to rescue the Lakul, which was trapped in an energy field later identified as the Nexus. At Harriman's orders he released plasma from the warp nacelles to free the two transport ships but it wasn't successful. Later he informed the captain that the hull of the Lakul was collapsing and was hit by an explosion when the Enterprise-B was caught in the gravimetric distortion itself. Scotty took over his station. (Star Trek Generations)
Science officer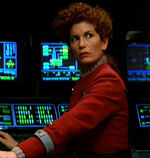 This lieutenant served as science officer, and identified the Lakul as one of two transports carrying El-Aurian refugees to Earth. (Star Trek Generations)
Footnotes
↑

This character was not seen and the division is assumed by the position.