USAopoly is the major licensee and manufacturer of custom-themed board games. The company was started in 1994 to produce city- and state-themed Monopoly games, but has since branched out to other licensed properties and other Hasbro-produced games such as The Game of Life, Scrabble, Yahtzee, and Clue.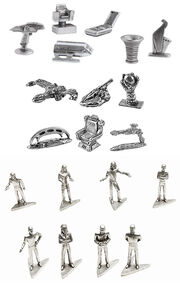 In the 1990s, the company produced two Star Trek-themed Monopoly editions:
The company had license to produce editions based on Star Trek: Deep Space Nine and Star Trek: Voyager as well. However, due to apparently poor sales of the first two games, they decided not to produce the latter two editions, and halted further production of the games already on the market.
USAopoly was awarded a new license in 2009, and released two more Star Trek-themed Monopoly editions:
To date, USAopoly has not released any non-Monopoly Star Trek-themed games.
External link