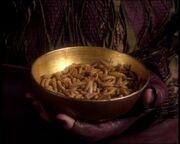 Tube grubs were a larva-like organism eaten live as a delicacy by the Ferengi.
Contrary to Human foods, tube grubs were preferred cold, before they became warm. Ishka offered to make tube grubs for Quark and even pre-chew them, when he visited her in 2373, but Quark stated he'd never liked her grubs. (DS9: "Ferengi Love Songs")
Joseph Sisko considered offering Cajun-style tube grubs at his restaurant, Sisko's, in New Orleans in 2372, though he said he would have to cook them, a suggestion which Nog found odd. (DS9: "Homefront")
Benjamin Sisko once cooked pureed tube grubs for his son and Nog in late 2373. Jake enjoyed them until he found out what they were, subsequently vomiting into his napkin . (DS9: "Blaze of Glory")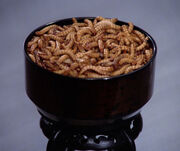 External link
Edit
Ad blocker interference detected!
Wikia is a free-to-use site that makes money from advertising. We have a modified experience for viewers using ad blockers

Wikia is not accessible if you've made further modifications. Remove the custom ad blocker rule(s) and the page will load as expected.