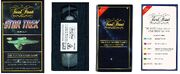 The Trivial Pursuit - Star Trek Edition VCR Game was made by Telstar Video Entertainment in the UK in 1995 as a "Sci-Fi Master Game" supplement for the standard Trivial Pursuit board games.
The set consisted of a VHS videocassette (in PAL format) with over a hundred clips from the original Star Trek series and the first six Star Trek films, a game booklet with over six hundred questions related to the video clips, and a Category Card. Game instructions allowed for gameplay with or without the Trivial Pursuit board game.
Since the tape was in PAL format (the main format for UK and European VCRs), it was unplayable on North American players or those which could only play the NTSC format. The game was never released in NTSC format.
These Trek-related games with a video element (VHS tape or DVD):
Ad blocker interference detected!
Wikia is a free-to-use site that makes money from advertising. We have a modified experience for viewers using ad blockers

Wikia is not accessible if you've made further modifications. Remove the custom ad blocker rule(s) and the page will load as expected.