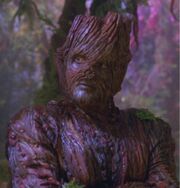 Trevis was a character in an interactive holodeck fairy tale, The Adventures of Flotter. He was a tree elemental and a friend of Flotter.
In 2375, Neelix used him and other characters from the Forest of Forever to comfort Naomi Wildman while they waited for word on whether Naomi's mother, who had crashed in a shuttle, was safe. After Naomi and her mother were reunited safely, they both visited the program. (VOY: "Once Upon a Time")
External link
Edit
Ad blocker interference detected!
Wikia is a free-to-use site that makes money from advertising. We have a modified experience for viewers using ad blockers

Wikia is not accessible if you've made further modifications. Remove the custom ad blocker rule(s) and the page will load as expected.