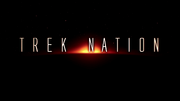 Trek Nation is a feature-length Star Trek documentary that first aired in late 2011 on the Discovery Channel in the US.
This documentary focuses on Star Trek creator Gene Roddenberry's son Rod Roddenberry's exploration of the cultural impact of the franchise and includes interviews with George Lucas, J.J. Abrams, and Stan Lee, among others.
Executive producer and narrator Rod Roddenberry stated, "This project is very personal for me, as it literally documents my education on Star Trek, my father, and the Roddenberry legacy. Trek Nation strikes a strong balance between exploring a science fiction phenomenon and relating a very universal story between a son and his father." [1]
Trek Nation was produced for SCIENCE, a division of Discovery Communications, by Roddenberry Entertainment.
Rod Roddenberry hosted the documentary and served as Executive Producer.
Interviewees
Indira Addington
Dr. Sallie Baliunas
Grey Beyer
Tim Brazeal
Chris Buice
Dr. Ernesto Cortez
David Goodman
Rob Haitani
Eric Hall
Amber Kathrine
Mort Kessler
Christopher Knopf
Annabelle Noland
Josh Noland
Elijah Post
Dr. Susan Schwartzman
Jules Urbach
External link