Ad blocker interference detected!
Wikia is a free-to-use site that makes money from advertising. We have a modified experience for viewers using ad blockers

Wikia is not accessible if you've made further modifications. Remove the custom ad blocker rule(s) and the page will load as expected.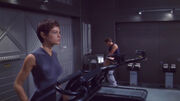 A treadmill, sometimes called a running machine, was a type of exercise equipment that allowed an individual to walk or run while remaining in a stationary position. They had a number of settings which increased the difficulty of the exercise given.
Enterprise NX-01 was equipped with two treadmills as part of its gymnasium. In 2152, Captain Jonathan Archer and Sub-Commander T'Pol utilized them while discussing an infection Porthos had acquired during a visit to the Kreetassan homeworld. Due to her Vulcan physiology, T'Pol was able to maintain a high setting while Archer struggled to keep up. (ENT: "A Night in Sickbay")
Two years later, Lieutenant Malcolm Reed used a treadmill while discussing the arrival of three Orion slave girls with Ensign Travis Mayweather, who was also present in the gym and exercising with weights. (ENT: "Bound")
External links
Edit