Ad blocker interference detected!
Wikia is a free-to-use site that makes money from advertising. We have a modified experience for viewers using ad blockers

Wikia is not accessible if you've made further modifications. Remove the custom ad blocker rule(s) and the page will load as expected.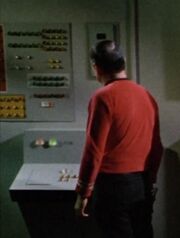 Transistor units were a computer technology used on the DY-100-class ships in the 1990s.
When the starship USS Enterprise encountered the SS Botany Bay in 2267, Scotty noted the transistor unit aboard, calling it "bulky" and "solid," and stating that he would "love to tear [it] apart." (TOS: "Space Seed")