This article or section is incomplete
This page is marked as lacking essential detail, and needs attention. Information regarding expansion requirements may be found on the article's talk page. Feel free to edit this page to assist with this expansion.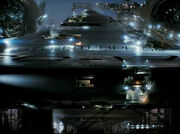 A trailer is a short promotional tool used to preview a film or television show, usually with selected clips from the production.
Trailers might occasionally include scenes later deleted from the movie or created especially for promotional purposes, as was for example the case with Star Trek VI: The Undiscovered Country, Star Trek: First Contact and Star Trek.
Star Trek: First Contact - Early trailers were released before much of the film was shot, and thus relied on footage from Star Trek: The Next Generation and Star Trek: Deep Space Nine.
Star Trek - a specially-shot teaser showed the new Enterprise under construction, with a welder working on it.
Star Trek Beyond [1] - This trailer was reported to be ill-received, with even co-writer and actor Simon Pegg adding to the criticism, and stating that it was not like the movie. [2] [3] The second trailer was released online following a fan event on 20 May 2016.
External link
Edit
Ad blocker interference detected!
Wikia is a free-to-use site that makes money from advertising. We have a modified experience for viewers using ad blockers

Wikia is not accessible if you've made further modifications. Remove the custom ad blocker rule(s) and the page will load as expected.