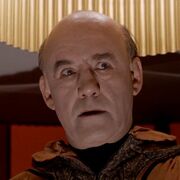 Torin Herbert Erskine Thatcher (15 January 1905 – 4 March 1981; age 76) was the actor who played Marplon in the Star Trek: The Original Series episodes "The Return of the Archons".
Thatcher was an Indian born British character actor, whose film career started in 1933, and his television career in 1949. He often played villains. Thatcher portrayed Senator Gallio in 20th Century Fox's biblical epic, The Robe. His film career was largely over by the end of the sixties, but he continued to work sporadically in both film and television until the middle seventies. He succumbed to cancer in 1981.
Thatcher was a favorite actor of B-movie science fiction and fantasy director Nathan Juran. He also frequently appeared in Irwin Allen's television shows, including an episode of Lost in Space (starring Bill Mumy) and an episode of The Time Tunnel (starring James Darren, Lee Meriwether and Whit Bissell).
External link