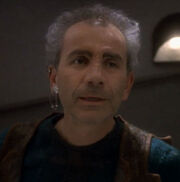 Tony Rizzoli is the actor who played Kainon in the Star Trek: Deep Space Nine episode "Duet".
Rizzoli has also guest-starred in My Two Dads (with Wendy Schaal), Night Court (with John Larroquette), Alien Nation (with Gary Graham, Eric Pierpoint, and Michele Scarabelli), NYPD Blue (with Gordon Clapp and Tom Towles) and Babylon 5 (with Marshall Teague).
His motion picture credits include Wise Guys, Bread and Roses (with Ron Perlman), Sweet Home Alabama (with fellow DS9 guest stars Andrew Prine and Michelle Krusiec) and Ladder 49 (with DS9 guest star Billy Burke).
External link
Edit
Ad blocker interference detected!
Wikia is a free-to-use site that makes money from advertising. We have a modified experience for viewers using ad blockers

Wikia is not accessible if you've made further modifications. Remove the custom ad blocker rule(s) and the page will load as expected.