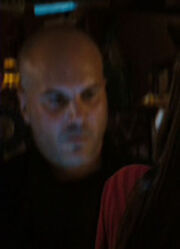 Antonio "Tony" Guma (born 1 April 1962; age 54) is an actor who portrayed Lew the bartender in J.J. Abrams' Star Trek.
As a long time friend of J.J. Abrams, Guma played parts in several of Abrams' productions, including the roles of Dino in the Felicity episode And to All a Good Night (2000), Ben in the Alias episode Remnants (2003, with Mark Bramhall, Scott Sahadi, stunts by Shauna Duggins, associate producer Bryan Burk, and executive producers Alex Kurtzman and Roberto Orci), and Jim in the action sequel Mission: Impossible III (2006).
Guma is a former NCAA All American soccer player at the Hofstra University in New York, who studied acting under Uta Hagen and Bill Hickey. He also modeled for the Zoli Agency in New York and has worked as an english high school teacher for many years, before he sent his first script to Sony/ Columbia Pictures in 1998. His script went into production and Guma had a leading part in his comedy The Suburbans (1999), which featured Willie Garson, stunt coordination by Terry James, and producer J.J. Abrams in the role of a rock journalist.
Among his other on-screen performances are supporting and leading roles in the television series Too Something (1995), Living Single (1996), and Party Girl (1996, with Ian Abercrombie), the mystery film Don't Sleep Alone (1997), the drama Lola's Game (1998), the horror film Watchers Reborn (1998, with Lisa Wilcox, Stephen Macht, Bob Clendenin, Gary Wayton, Kane Hodder, Larry Cedar, and stunts by Monica Staggs and Mike Gunther), the science fiction film Star Portal (1998, with Stephen Davies, Anthony Crivello, and Athena Massey), Steven Soderbergh's Academy Award winning thriller Traffic (2000), and the biopic Just Can't Get Enough (2001).
Today, Guma is a member of the Writer's Guild of America, has produced several projects, such as the short action film The Runaround (2004) and the short documentary Breakfast with Mary & Chet (2005), and more recently played the part of Jeff in J.J. Abrams' upcoming television project Anatomy of Hope (2008, with Mark Rolston, Bruce Gray, Jonathan Dixon, and stunt coordination by Shauna Duggins).
External links