Ad blocker interference detected!
Wikia is a free-to-use site that makes money from advertising. We have a modified experience for viewers using ad blockers

Wikia is not accessible if you've made further modifications. Remove the custom ad blocker rule(s) and the page will load as expected.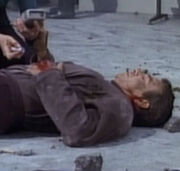 Anthony "Tony" Cecere is a stuntman and stunt actor who performed stunts in Star Trek II: The Wrath of Khan and later in the Star Trek: The Next Generation episode "The High Ground", where he played a wounded Rutian man. He received no on-screen credit for his television appearance.
Cecere has also performed stunts for such films as The Thing, Ghostbusters, The Terminator, Rambo: First Blood Part II, Child's Play, Darkman, Wes Craven's New Nightmare, Ed Wood, Starship Troopers, Spider-Man, the 2003 remake of The Italian Job., and the Michael Bay films Con Air, Armageddon, and Pearl Harbor.
He was a stuntman for Rescue 911, hosted by William Shatner, and later for J.J. Abrams's series Alias. Additionally, he was the stunt coordinator for Wes Craven's A Nightmare on Elm Street, Scream, and Scream 2, as well as the 2003 remake of The Texas Chainsaw Massacre. Cecere also had an acting role in 1989's The Return of Swamp Thing, for which he also served as stunt coordinator.
External links
Edit