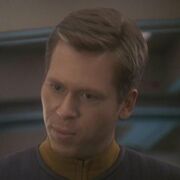 Tom Hodges (born 1 July 1965; age 52) played Crewman Pechetti in the Star Trek: Deep Space Nine episode "Empok Nor".
Hodges has also starred in Valerie and guest starred in L.A. Law, Airwolf, and Nurses.
His motion picture credits include Lucas (1986), Revenge of the Nerds II: Nerds in Paradise (1987, with James Cromwell, Ed Lauter, and Raymond Forchion), Critters 2: The Main Course (1988, with Scott Grimes, Sam Anderson and Douglas Rowe), Steel Magnolias (1989, with Bibi Besch and Nancy Parsons), Tale of Two Sisters (1989), Frame Up (1991, with Robert Picardo), Excessive Force (1993, with Bobby Bass, Danny Goldring, Tony Todd, and Tony Epper), Another Round (1994 TV movie, with Googy Gress and Brett Cullen), Blind Justice (1994, with Titus Welliver and Clayton Landey), The Killer Within (1995, with Melanie Smith, Meg Foster, and Eileen Seeley), Michael (1996, with Teri Garr and Wallace Langham), Stigmata (1999, with Thomas Kopache, Duke Moosekian, and Jack Donner), and Homo Erectus (2006).
External links
Edit
Ad blocker interference detected!
Wikia is a free-to-use site that makes money from advertising. We have a modified experience for viewers using ad blockers

Wikia is not accessible if you've made further modifications. Remove the custom ad blocker rule(s) and the page will load as expected.