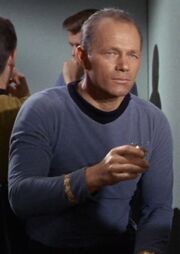 Tom Curtis is the actor who made an uncredited appearance in the original series episode "Court Martial" as Corrigan. He filmed his scene on Friday 7 October 1966 at Desilu Stage 10.
Curtis also has unconfirmed work on Star Trek as the voice of Jon Daily in "The Conscience of the King" and the Starbase Operations voice in "The Menagerie, Part I". Call sheets show him as doing voice-over work in "The Cage", but this may not have survived the editing process.
Curtis has appeared on a few other television series, including The Man from U.N.C.L.E., Voyage to the Bottom of the Sea, and Mission: Impossible. He also appeared in the 1965 films The Sandpiper and A Patch of Blue.
External link
Edit
Ad blocker interference detected!
Wikia is a free-to-use site that makes money from advertising. We have a modified experience for viewers using ad blockers

Wikia is not accessible if you've made further modifications. Remove the custom ad blocker rule(s) and the page will load as expected.