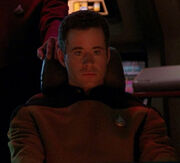 Todd Merrill is the actor who portrayed Lieutenant Gleason in two fourth season episodes of Star Trek: The Next Generation, "The Best of Both Worlds, Part II" and "Future Imperfect".
Merrill guest-starred in a 1989 episode of Quantum Leap, starring future Star Trek: Enterprise actors Scott Bakula and Dean Stockwell. He went on to appear in the 1995 science fiction made-for-television movie, The Invaders, also starring Scott Bakula.
He appeared in a 2003 television special called Return to the Batcave: The Misadventures of Adam and Burt. Fellow Star Trek alumni Ivar Brogger, Ray Buktenica, Christopher Darga, Frank Gorshin, Jim Jansen, Jason Marsden, Lee Meriwether, Julie Newmar, Julia Rose, Joel Swetow, and Steve Vinovich also had roles in this special.
External links
Edit
Ad blocker interference detected!
Wikia is a free-to-use site that makes money from advertising. We have a modified experience for viewers using ad blockers

Wikia is not accessible if you've made further modifications. Remove the custom ad blocker rule(s) and the page will load as expected.