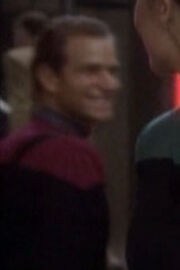 Todd Feder played a Starfleet officer in the Star Trek: Deep Space Nine episode "Babel". The end credits of the episode list him as "Federation male".
Feder also guest starred in the Charmed episode "I've Got You Under My Skin". That episode was directed by John Kretchmer.
Feder's motion picture credits include The Lost Boys, Warm Summer Rain, The Pornographer and The Adulterer.
External link
Edit
Ad blocker interference detected!
Wikia is a free-to-use site that makes money from advertising. We have a modified experience for viewers using ad blockers

Wikia is not accessible if you've made further modifications. Remove the custom ad blocker rule(s) and the page will load as expected.