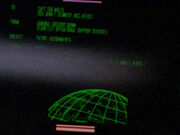 Captain Tod Miles was a Starfleet officer in the 24th century.
In 2364, he was the commander of the USS John F. Kennedy. After stardate 41601.3, he received two orders about modifications to the ship's patrol assignments from Admiral Gregory Quinn of Starfleet Operational Support Services. (TNG: "Conspiracy", okudagram)
Ad blocker interference detected!
Wikia is a free-to-use site that makes money from advertising. We have a modified experience for viewers using ad blockers

Wikia is not accessible if you've made further modifications. Remove the custom ad blocker rule(s) and the page will load as expected.