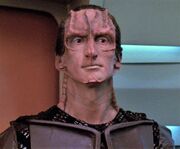 Timothy G. "Time" Winters (born 3 February 1956; age 61) is an actor from Lebanon, Oregon who played Glinn Daro in the Star Trek: The Next Generation fourth season episode "The Wounded" in 1991.
Winters has also made appearances on such television series as Cheers, MacGyver (the two-parter "Good Knight, MacGyver" as Merlin, with Colm Meaney in the opening of Part 1 and "Honest Abe"), Picket Fences, The John Larroquette Show, Murder, She Wrote, Babylon 5, Buffy the Vampire Slayer, and ER. He made his film debut in 1990's Gremlins 2: The New Batch, playing a technician under the employment of the character played by Robert Picardo. This film also featured Raymond Cruz, Zach Galligan, Henry Gibson, John Glover, Jerry Goldsmith, Keye Luke, Dick Miller, Kenneth Tobey, and Frank Welker in the cast. Winters appeared in 1991's L.A. Story (with Iman), playing the waiter of a restaurant owned by Patrick Stewart's character. In 1995 he had a supporting role in the crime drama Murder in the First (with Christian Slater, Brad Dourif, Ben Slack, Eve Brenner, and Stefan Gierasch).
External links
Edit
Ad blocker interference detected!
Wikia is a free-to-use site that makes money from advertising. We have a modified experience for viewers using ad blockers

Wikia is not accessible if you've made further modifications. Remove the custom ad blocker rule(s) and the page will load as expected.