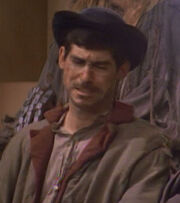 Tim Wachsner is an actor who appeared as a post-atomic court spectator in the Star Trek: The Next Generation final episode "All Good Things..." in 1994. He received no credit for this appearance and was identified by his costume tag. Marina Sirtis took his costume tag during her tour through the studio for a special feature on the TNG Season 7 DVD.
Wachsner graduated from the Hollywood High School in Los Angeles, California, USA in 1970. [1]
Ad blocker interference detected!
Wikia is a free-to-use site that makes money from advertising. We have a modified experience for viewers using ad blockers

Wikia is not accessible if you've made further modifications. Remove the custom ad blocker rule(s) and the page will load as expected.